Verifying an Entry for the Guinness Book of World Records: The Oldest Man Alive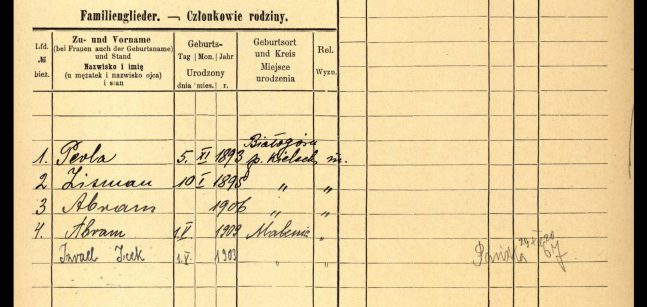 In 2014, Mr. Israel Krystal (z"l)  of Haifa, Israel was named the "World's Oldest Man" by Guinness Book of World Records. Mr. Krystal reported that he was born around Rosh Hashanah on or about September 15, 1903.
Israel Icek Krystal (1903-2017), was born in Poland to parents who owned a confectionary (sweets) factory. His mother died when he was only seven and his father died four years later. He was never bar mitzvahed, and at age 14 went to live with relatives in Łodż and work in their confectionery factory.

His May 1928 marriage record states his age as 25. In the marriage banns (a public record posted in the synagogue and announced for three weeks before the wedding – in case anyone "knows any reason why the couple should not be joined in marriage"), the rabbi states that Mr. Krystal was 25 years old as one would expect if he was born around Rosh Hashanah in 1903 as he had been led to believe.

There is no entry in the 1903 birth register of Maleniec, Końskie County,    Poland, where he was born and first lived. Nor did an entry appear in later books as was often the case… i.e. a delayed registration. So, it is unknown if his parents overlooked registering his birth – a common occurrence – or if his birth was recorded in the 1905 or 1907 registers which have not survived. Thus, his sole identifying documentation after the war (he survived Auschwitz), were the Red Cross Displaced Persons Camp cards, and his Israeli identity papers. With some minor contradictions, all suggested that his birthday was sometime around September 15, 1903. And he maintained he was told by his family that he was born around the Chagim (High Holy Days).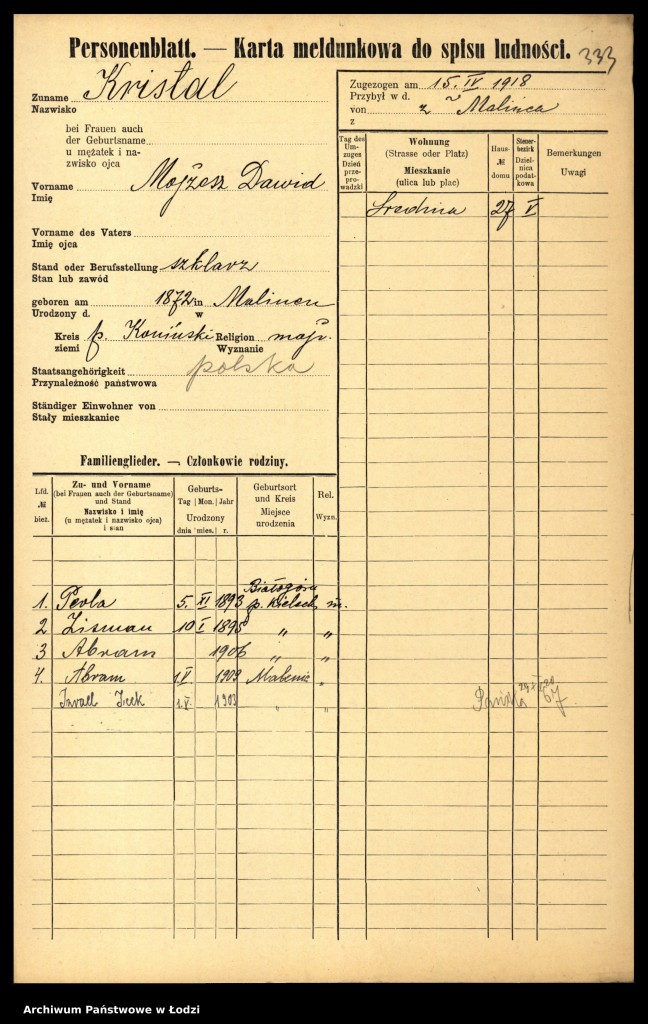 As Guinness World Records rules stipulate that ages must be documented with evidence from before a person reaches age 20, all these known documents were not admissible in the family's application for World's Oldest Man status. So, the family (and the City of Lodz) turned to Jewish Records Indexing – Poland (jri-poland.org ) for help. Fortunately, JRI-Poland co-founder and database manager, Michael Tobias of Glasgow, Scotland, had the presence of mind to look online in the Polish State Archives collection of Registration Cards for the City of Lodz, a collection which JRI-Poland had not yet indexed. He found a card, for Mr. Krystal's family with at least one error on it, but with a clue. In Poland it was common to use a Roman numeral for the month, and this card had columns for birthday, month and year. (See figure 1). In this case, "Israel Icek Krystal" was added to the extended family's registration card in 1920y, thereby meeting Guiness' age requirement that the evidence be from before a subject is 20-years old. In the year column, Israel is described as being born in 1903. Although the month column is blank, the "day" column includes the Roman numeral "IX". If the IX should have been correctly written in the month column, then it confirms Mr. Krystal's memory that he was born near a holiday. But was it Rosh Hashanah or perhaps around Pesach to which the Marriage Banns pointed? One or the other, Guiness justifiably named him the oldest man in the world.
Mr Krystal lost his first wife and children in the Shoah (Holocaust). He was the only survivor of his large family. He married another Holocaust survivor and moved with her to Israel in 1950 where he built a new family and a successful confectionary business.
His life and story is an amazing tale of perseverance. He outlived those who tried to cut short his days. In his statement to Guinness, Mr. Krystal said: "There have been smarter, stronger and better-looking men than me who are no longer alive. All that is left for us to do is to keep on working as hard as we can and rebuild what is lost."

Izrael Krystal's full story is documented in the book "Exceptional Life Spans" in which Jewish Records Indexing – Poland and the roles of JRI-Poland co-founders Stanley Diamond and Michael Tobias are acknowledged.