Introducing the JRI-Poland User Profile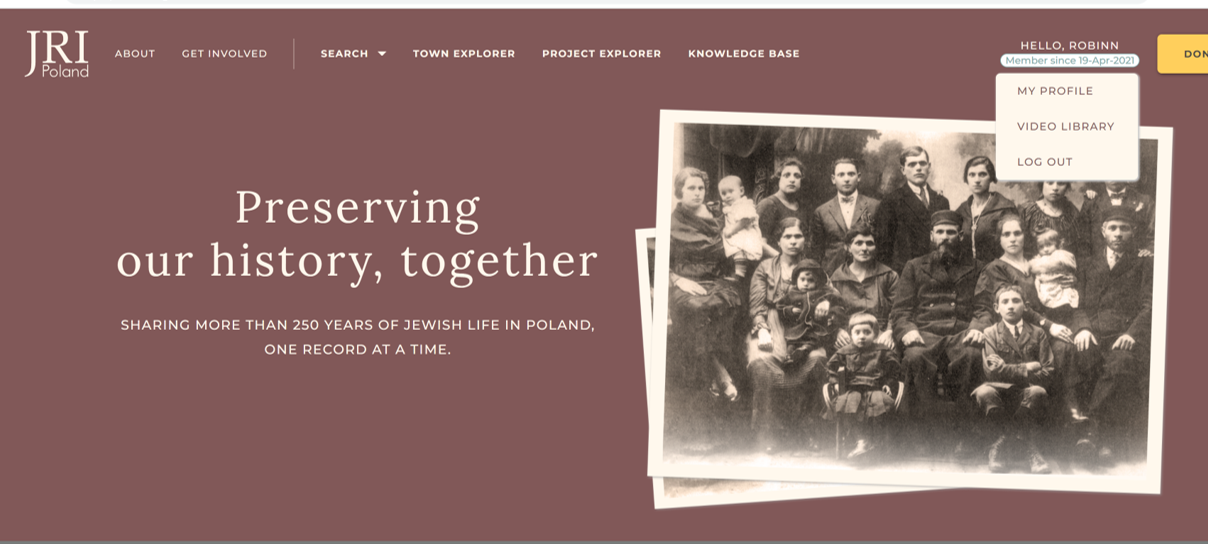 In the next few weeks, we will be introducing a new application for our JRI-Poland.org website – a User Profile that will be your ticket to: (1) adding and managing the information we have about you; (2) joining, renewing and managing your JRI-Poland membership; and (3) accessing the JRI-Poland On- Demand Video Library if you are a current member. We have also scheduled two Zoom Sessions as an introduction and Sneak Peek into this new application. Read about them at the bottom of this article and sign up on our Landing Page (home page).
Your JRI-Poland User Profile
Several users have expressed frustration that their free JRI-Poland user account has not allowed them to change the spelling of their first and last name nor to change their email address on file. The User Profile application will allow all users to make these changes themselves! We have also modified the requirements so that only one letter is now required for a first name and we request that you only use your real name and not a pseudonym.
Passwords will continue to be changed through our Log In system and not in the account profile.
The user profile will also allow you to tell us in a general way, where you live and a little about your skills, profession and interests. And, if you have time to volunteer, we hope you will let us know about skills and interests you would be willing to share.
Your JRI-Poland Membership Management
In April 2021, JRI-Poland introduced paid membership for the first time in our history and your response was immediate and overwhelming. With the User Profile, we are implementing a new feature that allows you to see details about your membership (and whether you have one or not). After you sign up or renew using this new feature, Paypal will track and renew your membership and provide us with the details. You can control how your membership is paid and whether it's paid automatically or not. This will make sign up and renewals efficient and easy for both you and JRI-Poland.
The JRI-Poland On-Demand Video Library
We have begun producing and gathering videos of interest to all our users as genealogists and users of the JRI-Poland website. Some JRI-Poland Zoom sessions are created for members only and others are open to attendance by all users of our system; however, later viewing of on-demand videos will be restricted to Paying Members only as a benefit of membership. Paying Members will be able to stream on-demand videos from their profile page. This video library will include sessions previously presented to members, such as Howard Zakai's "Poland's Changing Borders" and sessions presented to all JRI-Poland registered users such as Michael Tobias' "Tour of the JRI-Poland Search System" – both very popular sessions.
Two Sessions Scheduled On: "Sneak Peek at the JRI-Poland User Profile"
Join us for a one-hour presentation on how to use the new JRI-Poland User Profile. We are offering two Sneak Peek times – sign up from the Events section of our Home Page. Scroll down to the "News & Insights" section of the Landing Page (home page) and click on the yellow button that reads "Events". Clicking on "READ MORE" will bring you to the sign-up page. Please read the instructions so you know how to get into the session at the time of the session. The two sessions are 10 days apart:
Thursday, December 1, 8:30 pm Eastern