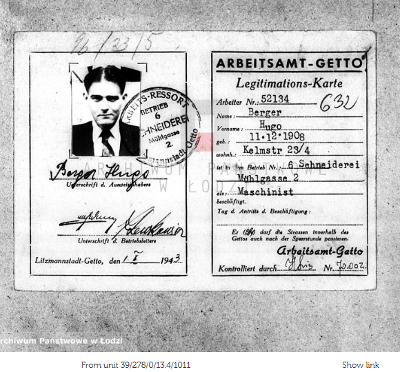 Records shared with JRI-Poland by the United States Holocaust Memorial Museum, Washington, DC
The entries in the Lodz Ghetto Worklist include records of some of the remaining Jewish victims in the Ghetto during the Jun-July1944 period.
The worklist includes the name, local address, year of birth, prisoner # and "function" – that is work assignment such as machinist, tailor, baker, etc. for each Ghetto resident. A comparison of the entries with other Internet sources indicates this is the first list to include place of employment and function. This collection does not appear in the United States Holocaust Memorial Museum (USHMM) website.
For the benefit of researchers, Lodz Ghetto Worklist data is now searchable on the JRI-Poland website using all the facilities of its powerful multiple-field search system with the advantages of phonetic, sound alike and fuzzy search options. These search tools make the data more accessible and valuable to all researchers.
We thank the United States Holocaust Memorial Museum for sharing this information with JRI-Poland.