Polish Jews in Shanghai, 1934-1941
Citizen Registration Book — Polish Consulate, Shanghai, China (January 9, 1934 through December 16, 1941)
By Mark Halpern
Background
The Nazi party came to power in Germany in 1933. This event started the systematic and State- sponsored persecution of Jews and led Jews to seek asylum abroad. In most countries of the world, Jews either could not live or were not allowed entry.
One of the viable destinations for Jews fleeing Nazi oppression was Shanghai, China. The International Settlement of Shanghai was established by the Treaty of Nanking in 1842. Shanghai was an open city and settlement or transit was easy. By 1937, there were communities of Iraqi and Russian Jews. The Battle of Shanghai in 1937 resulted in the occupation by the Imperial Japanese Army. They and the caretaker Chinese Reformed Government did not establish any passport regime. Shanghai became the only place in the world that allowed entry without a visa.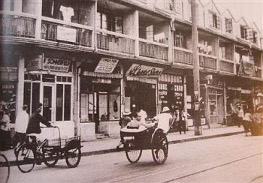 Some Polish Jews had already taken up residence in Shanghai (most likely for business reasons) long before the Nazi invasion and occupation of Poland in September 1939. However, from that point on, an increased urgency for a haven was foremost. This influx included many Polish Jews who were in transit in Kovno (later Kaunus, Lithuania) and were recipients of transit visas issued (illegally) by Chiune Sugihara, the Japanese Consul in Kovno. See the JewishGen Sugihara Database.
The transit route took them via the Trans-Siberian Railway to Vladivostok and by sea to Kobe, Japan. About half of these Jews were able to travel on and get entry to other countries (United States, Australia, etc.). The rest were trans-shipped by the Japanese to Shanghai – just a short time before the attack on Pearl Harbor in December 1941.
During the interwar period covered by this register, Poland was a large country that included territories now part of Lithuania, Belarus, and Ukraine. In addition, many Polish Jews living in Germany had Polish nationality. This database includes people previously living in the following current countries: Austria, Belarus, Bosnia, China, Czech Republic, Germany, Latvia, Lithuania, Poland, Romania, Russia, Slovakia, and Ukraine.
The Database
In a 1992 visit to the Polish Consulate in Shanghai, Dr. Jonathan Goldstein, then a research associate at Harvard University's Fairbank Center for East Asian Research, and three other scholars, were shown a 200-page register listing Polish citizens who passed through Shanghai between January 9, 1934 and December 16, 1941.
This register was the standard one used by Polish diplomatic missions around the world to record their citizens who called on the Consulate, whether they were visiting or residing in the country. Typically, these records enabled the missions to provide consular services, invite its citizens for celebrations of national days, or contact them for other official reasons. The following information was recorded in the register in Polish:
Registration number
Registration date
Full name of registrant (maiden name, if provided)
His or her profession
Religion (Mojzeszowa for Jewish)
Birth date and place
Marital status
Last known address in Poland (non-existent for most Jews)
Address in the consular region
Documents submitted (usually a passport)
Name and birth date and place of wife and children
Passport expiry date
Remarks
One of the three scholars accompanying Dr. Goldstein was Dr. Marcia Ristaino, the Asian Acquisitions Librarian at the U.S. Library of Congress. Following her visit, copies of the register were made available to the Library of Congress and also the Sino-Judaic Archives of the Hoover Institution, Stanford University, Palo Alto, California. In addition, the U.S. Holocaust Memorial Museum was given a copy.
For more information pertaining to Dr. Goldstein's visit and the register, see The Jews of China, Volume Two, A Sourcebook and Research Guide, edited by Jonathan Goldstein (ISBN 0-7656-0105-2), Chapter III. Also, see Jonathan Goldstein; AVOTAYNU Vol.10 no.2 (Summer 1994): 23-24.
Indexing the Shanghai Polish Consular Records
A number of years ago, JRI-Poland acquired a full copy of the register from the Sino-Judaic Institute. Volunteers from the Jewish Genealogical Society of Greater Philadelphia carried out the data entry, which was verified by Peter Nash, a former resident of and expert in the history of the Shanghai Jewish community.
The JRI-Poland index includes only those Consulate visitors who identified themselves as Jewish (Mojzeszowa) or whose given name or surname appeared to be Jewish. The register contained 1552 entries with 918 (59%) indexed here. Many entries are for people who received "Sugihara transit visas" in Kovno including those from the Mir Yeshiva.
Two incidents appear to precipitate many of the visits to the Shanghai Consulate by Jews. The first was the August 1937 Battle of Shanghai, where Japan began its full-scale effort to conquer China. The second was in December 1941 following the Japanese attack on Pearl Harbor.
The index includes:
Registration Number
Date entered in register
Surname
Maiden Name (if provided)
Given Names
Place of Birth as Written
Place of Birth – Current Name (if different)
Current Country of Place of Birth
Date of Birth • Marital Status
Accessing the Data
This database is now included in the overall JRI-Poland database, which can be searched by surname, town, or keyword. The results will be shown in the Stage One results under "no specified region."
JRI-Poland has also donated this database to JewishGen to incorporate in its very large and diverse Holocaust Database.
JRI-Poland has created digital images of the register pages and will send electronic copies of the relevant pages to interested researchers. Please contact [email protected] to obtain a copy of the register pages for any specific individual found in the database.
An Index of all the entries exists on the Library of Congress' website
at www.loc.gov/rr/european/polref/polrefindex.html. It is an "Index to Ledger listing in handwriting persons registered at the Polish consulate in Shanghai, 1934-1941, on the basis of documents issued by Polish authorities."
Websites of Interest
http://haruth.com/jw/AsiaJewsShanghai.htm — links to former and present Jewish Shanghai
http://www.rickshaw.org — articles on refugee life in Shanghai, memoir and book reviews, reunions, links

http://www.jewsofchina.org/ — Former Jewish Communities of China
http://www.chinajewish.org/ — Shanghai Jewish Center – Chabad
http://www.shanghaijewishmemorial.com/index_1.htm — rediscovered Jewish Tombstones
http://www.jewishvirtuallibrary.org/jsource/vjw/chinajews.html — Jewish history tour of China
http://www.cosmoshanghai.net/ShanghaiSite/menorahsplash/catentry.html — Sydney Jewish Museum Exhibition (Australia) Crossroads – Shanghai and the Jews of China plus Online Documentary
http://www.migrationheritage.nsw.gov.au/exhibition/belongings/nash/ — Migration Heritage Center of New South Wales (Australia) – Peter Nash's migration journey
http://www.passengerlists.de/ — Bremen Passenger Lists to Shanghai
https://www.loc.gov/rr/european/polref/polrefindex.html — Ledger listing in handwriting persons registered at the Polish consulate in Shanghai, 1934-1941, on the basis of documents issued by Polish authorities, with Index
http://www.cosmoshanghai.net/ShanghaiSite/ — The Menorah of Fang Bang Lu – 7 Jews of Shanghai
Further Information on Resources for Family Research in China
At the 2006 IAJGS International Conference on Jewish Genealogy held in New York City and sponsored by Jewish Genealogical Society, Inc. (New York), Peter Nash (formerly Nachemstein) presented "China: Unusual Resources for Family Research." The syllabus is shared on JRI-Poland.org with the author's permission.
Peter Nash and his parents escaped Berlin in April 1939 finding refuge in Shanghai until 1949 when the family immigrated to Australia. Peter wrote the chapter on China in the Avotaynu Guide to Jewish Genealogy and has given talks all over the world on researching Jewish roots in China.