Remembering the Fallen Russian Jewish Soldiers of World War I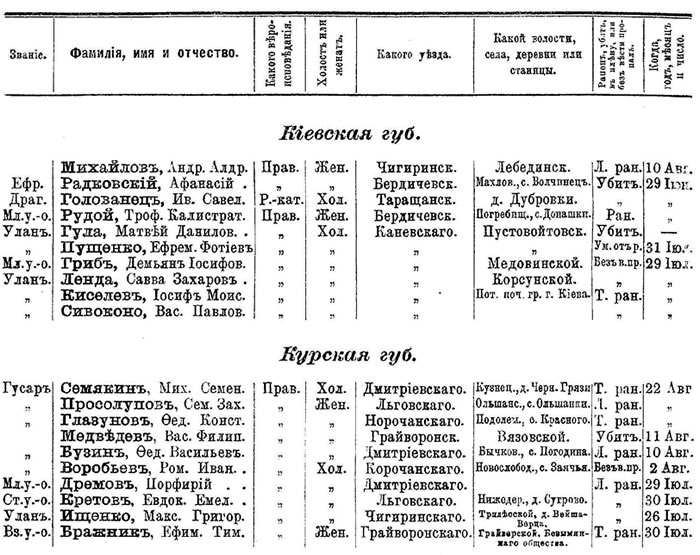 Background
In early 2013, Jewish Records Indexing – Poland learned of the availability of these lists of Russian casualties from WWI for the years 1914-1916. Under the coordination of Joel Ratner, Jewish genealogical Special Interest Groups were invited to collaborate on a project to create detailed extracts of all information in these Russian language lists. (While the lists for 1917 and 1918 are not currently available, it is hoped that they will also be scanned and accessible for extraction.)
The lists are published on the website of the Russian State Library (www.rsl.ru). There are images of more than 50,000 pages covering the years 1914-1916.
Many of the Russian Gubernias (provinces) did not have sizeable Jewish populations and thus many pages did not include Jewish soldiers. For Gubernias with a significant numbers of Jews, the ratio of Jewish to non-Jewish soldiers listed is still relatively small.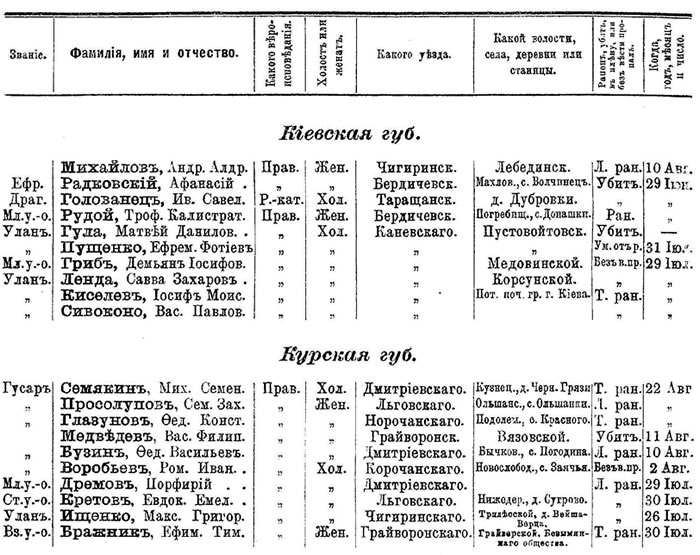 he following fields appear in the record entries:
Family Name
Given Name
Patronymic
Rank
Religion
Marital Status
Gubernia (where the list was compiled)
Uyezd (district where soldier originated)
Town (town where soldier originated)
Status
Date (when soldier declared dead, wounded or missing in action)
Polish Gubernias
Jewish Records Indexing – Poland undertook the extraction of all "Polish" Gubernias and the former Grodno Gubernia (for which a large area covers current part of Poland). The work was carried out by a retired archivist in Poland familiar with all aspects of Jewish records, surnames and given names.
Although the publication is Russian, the names were transliterated into Polish spelling for consistency with vital records.
Overview of Polish Data
The database includes 4310 soldiers with 3365 different surnames. 2532 were listed as Missing in Action, 1333 Killed in Action, 332 Wounded and 2 AWOL (absent without leave). 
More than 1000 towns are represented; understandably, most soldiers were from the larger centers of Warsaw (317), Łódź (194), Lublin (97), Białystok (66) and Grodno (59). Note, however, town names were only mentioned in 3/4 of the entries. Where town names are not included, the Powiat (District) is often provided.
The Gubernias with the highest number of soldiers were Grodno (872), Warszawa (801), Lublin (701) and Piotrków (588).
The lists were of lower rank soldiers and identified as: Private (3142), Rifleman (463), Shooter (191), Grenadier (165), Lance Corporal (132), Gunner (71), Junior Sergeant (23), Artillery (17), Drummer (5), Senior Sergeant (5).
How to find possible entries for your family
Review the Surname Frequency List for your family name.
Enter the name with EXACT spelling in the JRI-Poland search page.
Very important: Do not select a region or indicate a town.
The link to the entry will appear in the first stage search results under "no specified region".
IMPORTANT: All information appearing in the original publication of the Russian-Jewish Fallen Soldiers lists has been included in the database. There is no further information available. However, researchers may obtain a scan of the pages(s) with your family entries by making a qualifying contribution of $18 or more in support of this indexing project. To contribute, visit the corresponding project page, Russian Jewish Fallen Soldiers Project - WWI.